$6 Flat Rate shipping on all US orders. Questions? Chat or text us at 646.450.8518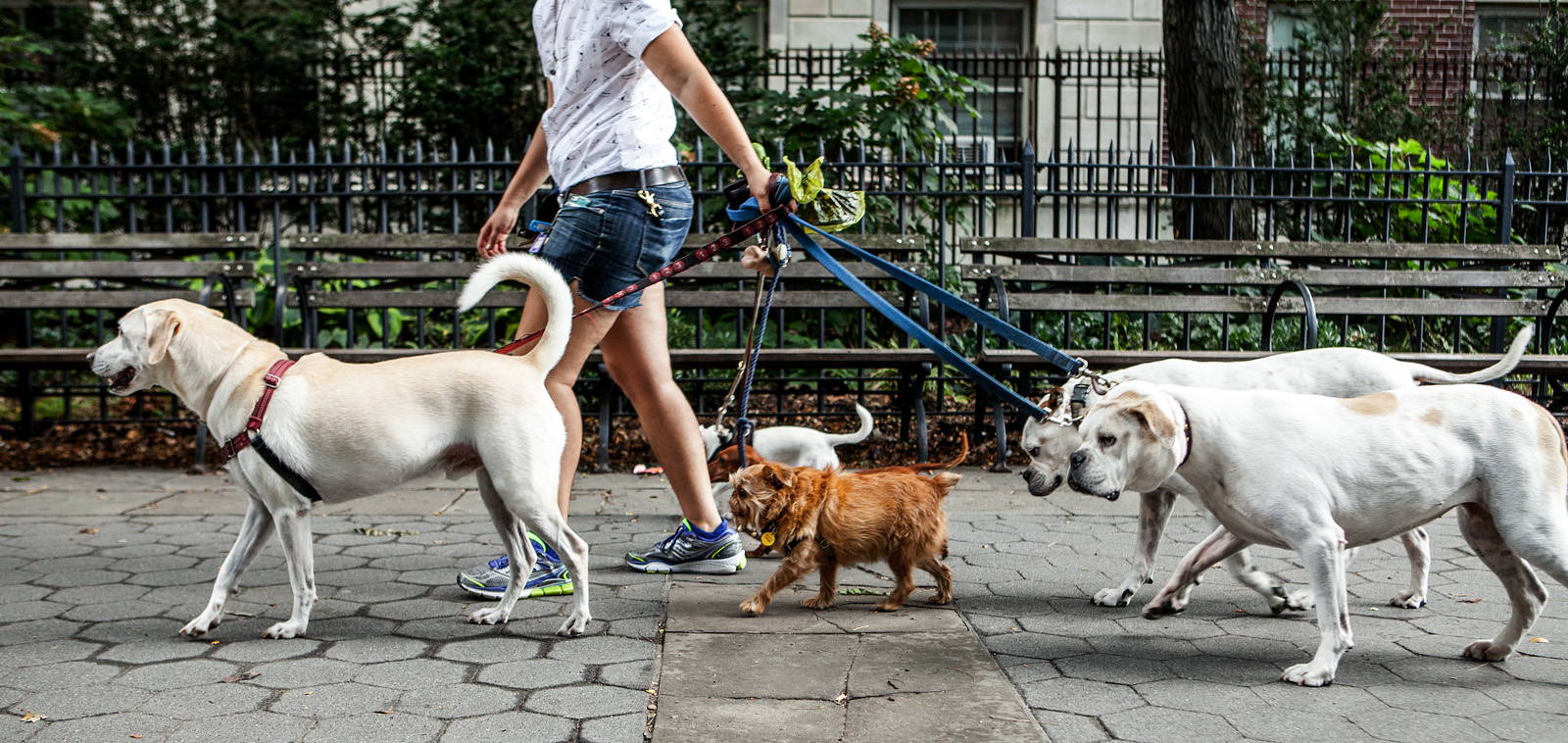 ---
LEADER of the PACK
Hadley Raysor of the DANDY DOGWALKER talks tail
Full-time dog walker Hadley Raysor has some "tails" to tell! As founder of the Dandy Dogwalker, a premier pet care service offering dog walking and pet sitting, Hadley focuses on anxious, fearful, and sensitive pups who may need a little extra assistance in adjusting to a city environment. Having an innate way with these most vulnerable pooches, Hadley has become a trusted member of the pack for families in both Brooklyn and San Francisco.
DOG & CO. spends a day walking & talking about life on the leash with Hadley and the motley (but oh-so-stylish!) #DandyDogPack, in canine cool gear from Found My Animal, Wildebeest, Wolfgang Man & Beast, and more.
---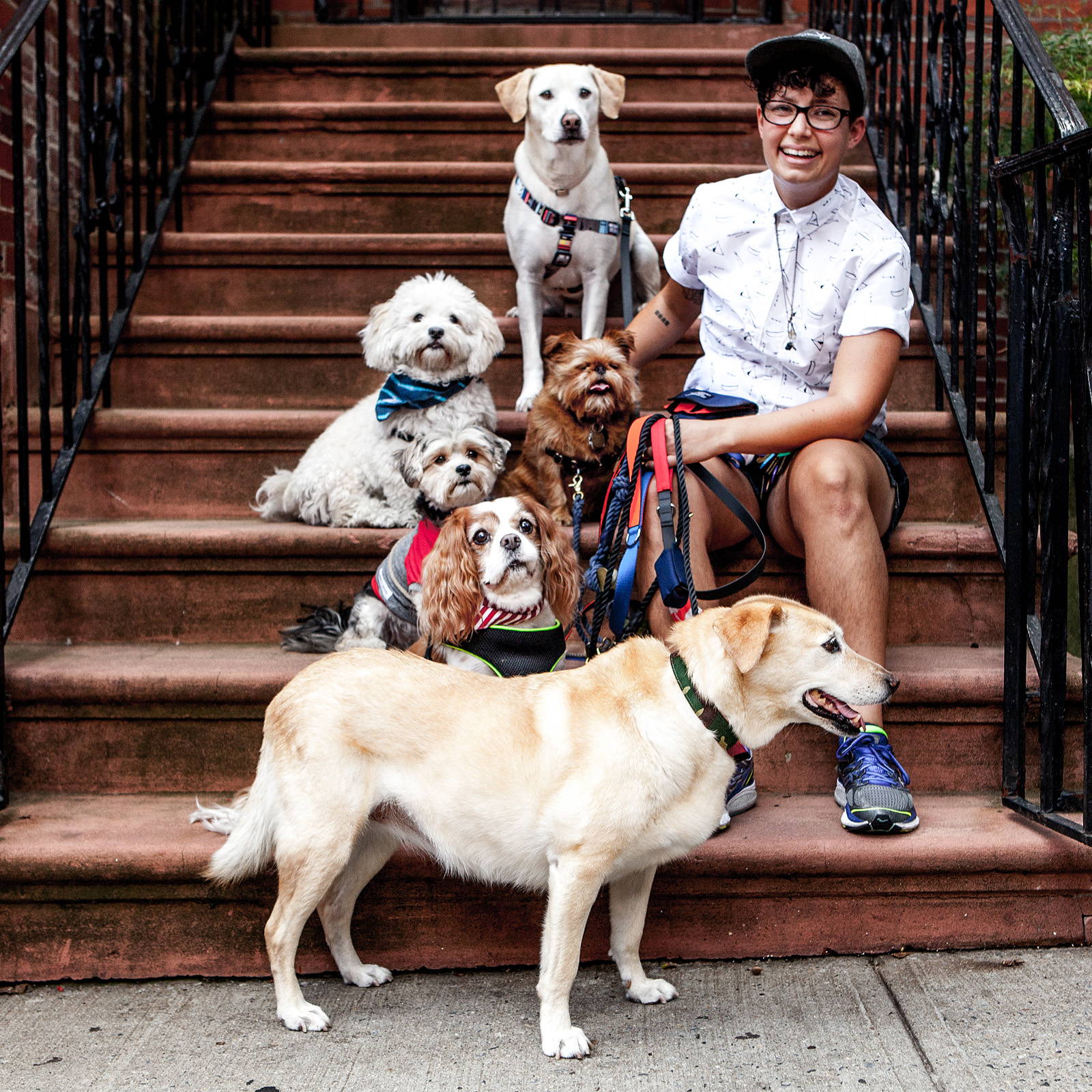 "I have a very special and unique relationship and bond with each of my dogs. I've known some for a handful of months, others a handful of years. It's interesting, I started walking dogs to have a break from working with humans, but the work is super parallel and is a practice in creating/establishing boundaries and expectations early; consistently maintaining boundaries and expectations through firm corrections, re-focusing the dog's attention on to me, and sometimes rewarding with positive reinforcement (treating, giving attention, allowing a dog to sniff something they really want to sniff, etc). Each dog has a unique personality, will push boundaries in different ways, and is rewarded differently. It's critical for me to be able to form a bond with each dog I'm walking and working with, otherwise we will lack mutual trust, and then everyone's on edge all of the time. Therefore, through consistent and calm control and assertion of boundaries and expectation for behavior, I'm able to walk seven very different dogs at once, and feel safe."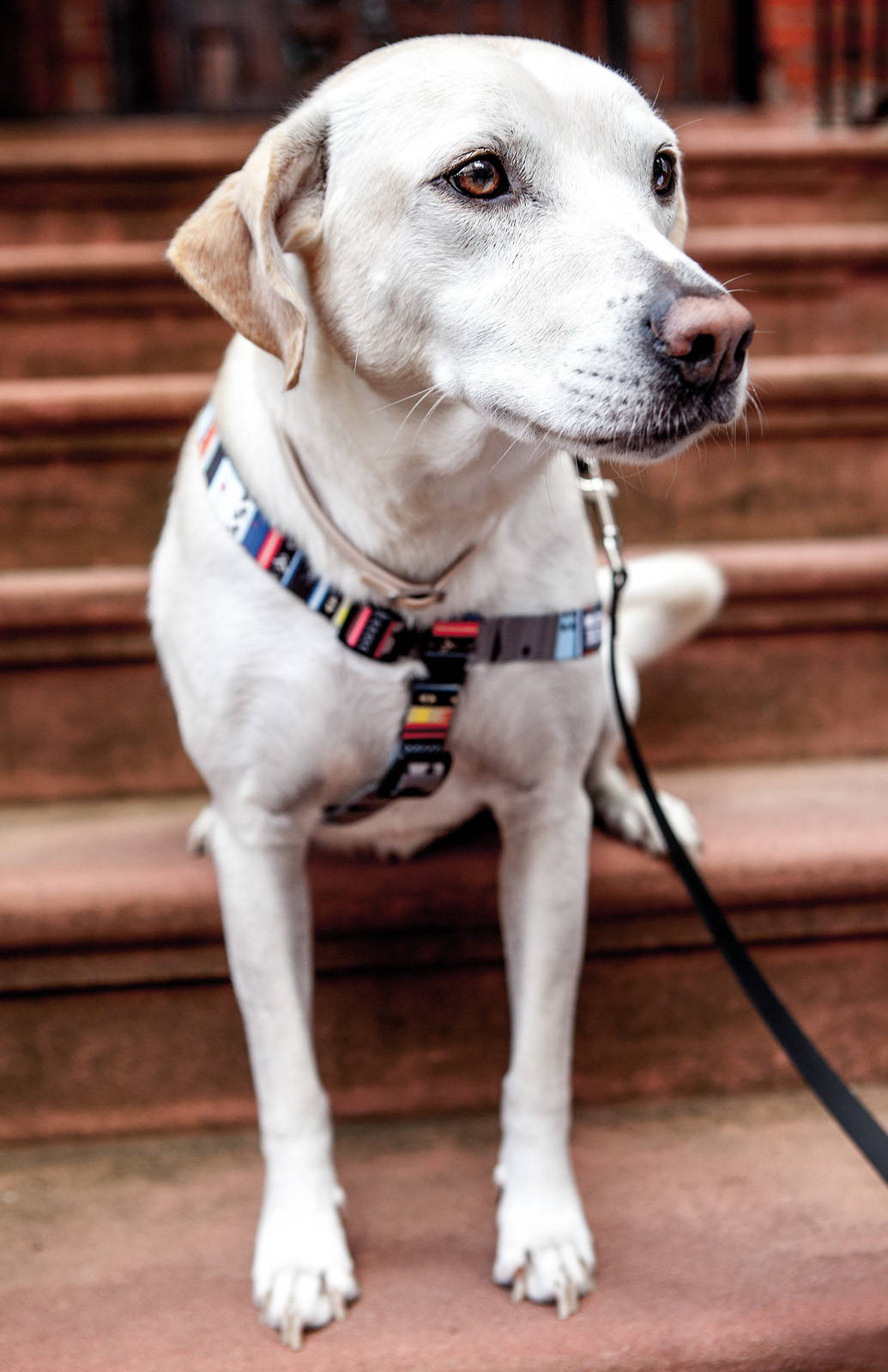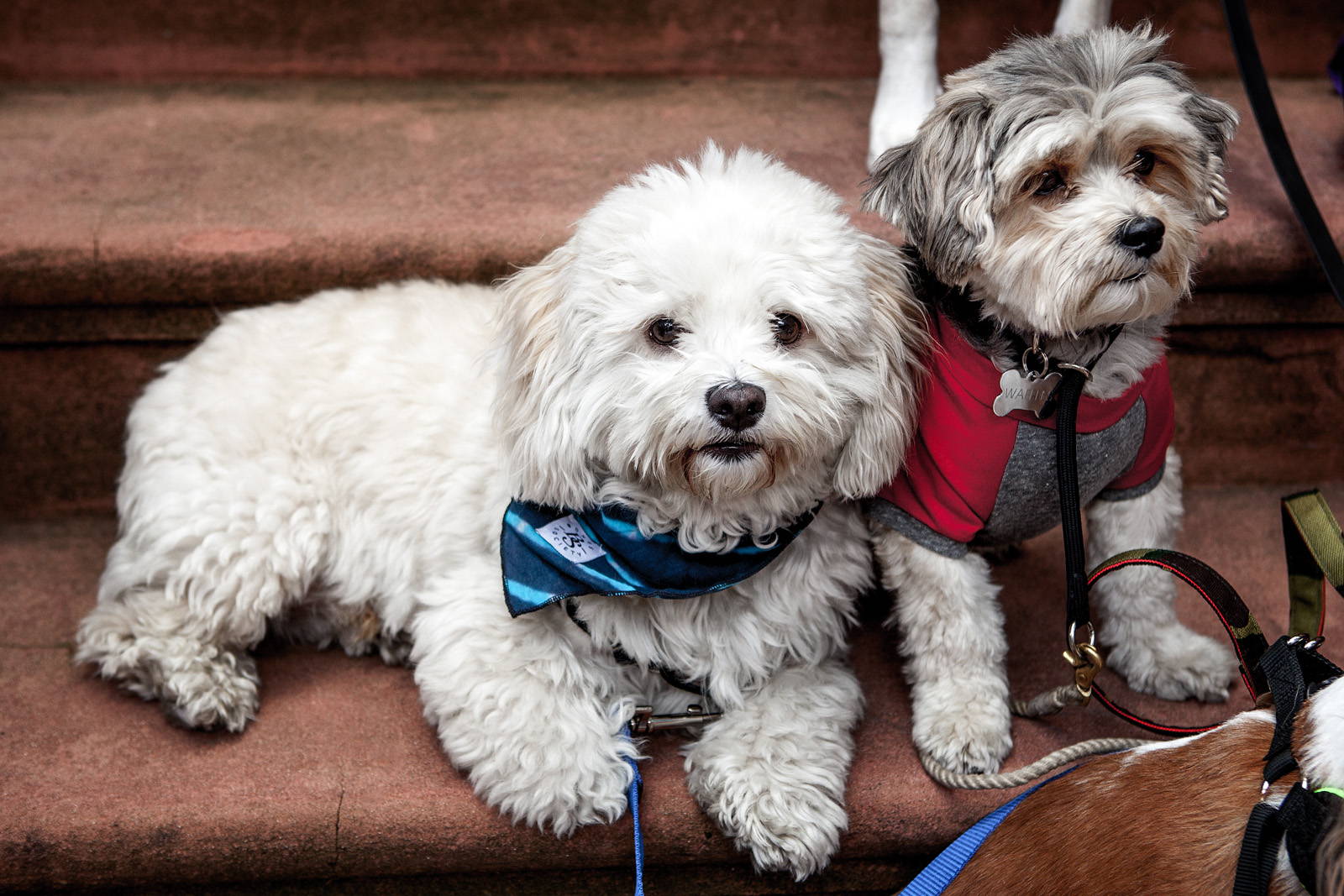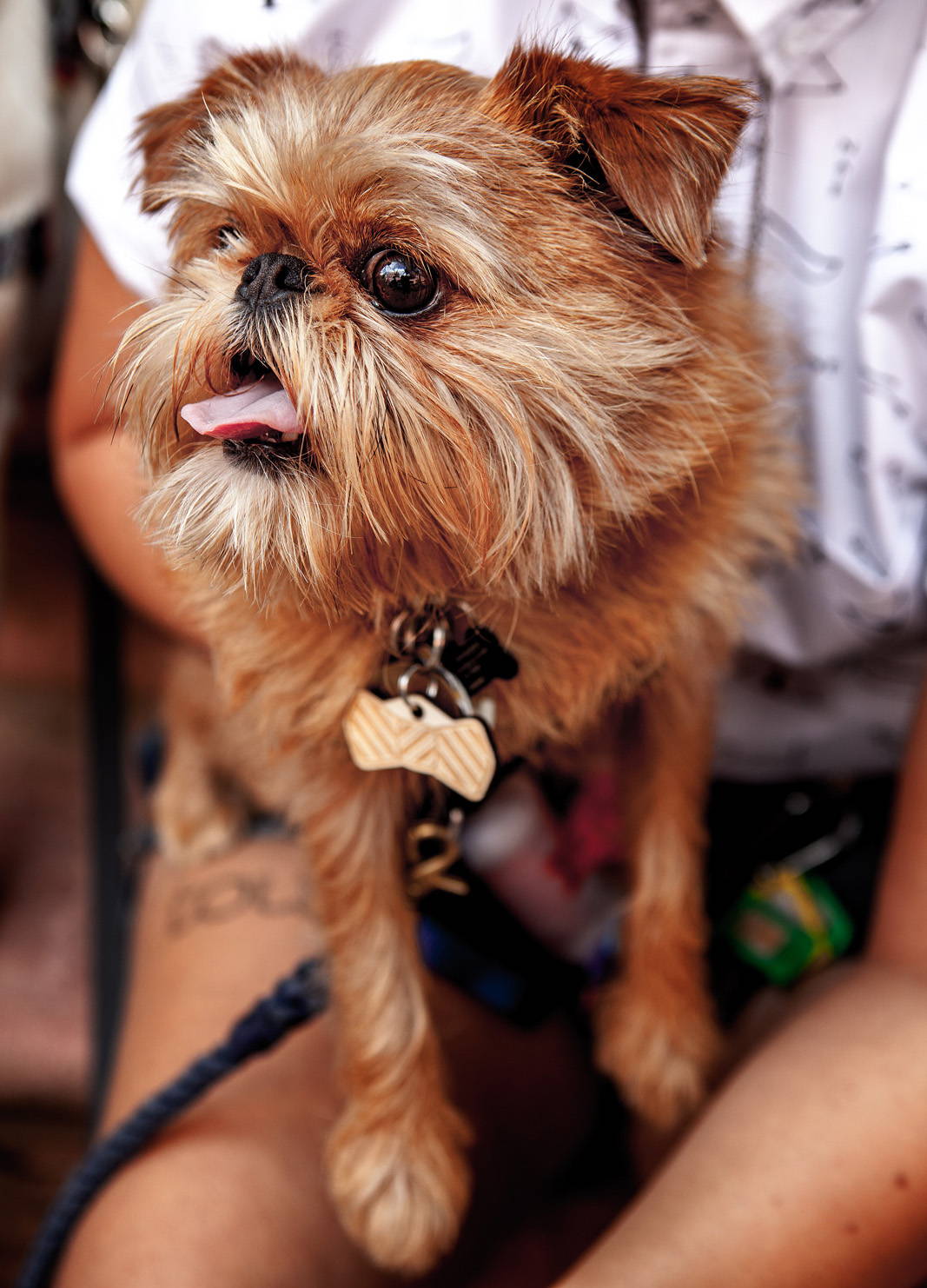 "One of my most tender beans is a puppy mill rescue morkie (maltese-yorkie). I started walking him maybe two weeks after he'd left the puppy mill - and Waffles was terrified of everything. Walking even a half a block would leave him exhausted and triggered. We did a lot of work together, and I incorporated him into my slowest, most tender pack (he still walks with these babes). Being on a controlled walk, learning from the other dogs he's with, and the deep love from his people have helped Waffles come out of his shell, and his personality has started to shine. Waffles also learned to play in his pack; a young Havanese named Elvis is a mouthy player, like, he'll gurgle and growl(ish) and "talk" -- now, Waffles and Elvis play together, and Waffles has learned that play is a little verbal and involves chasing and tackling and then a DIY backscratch."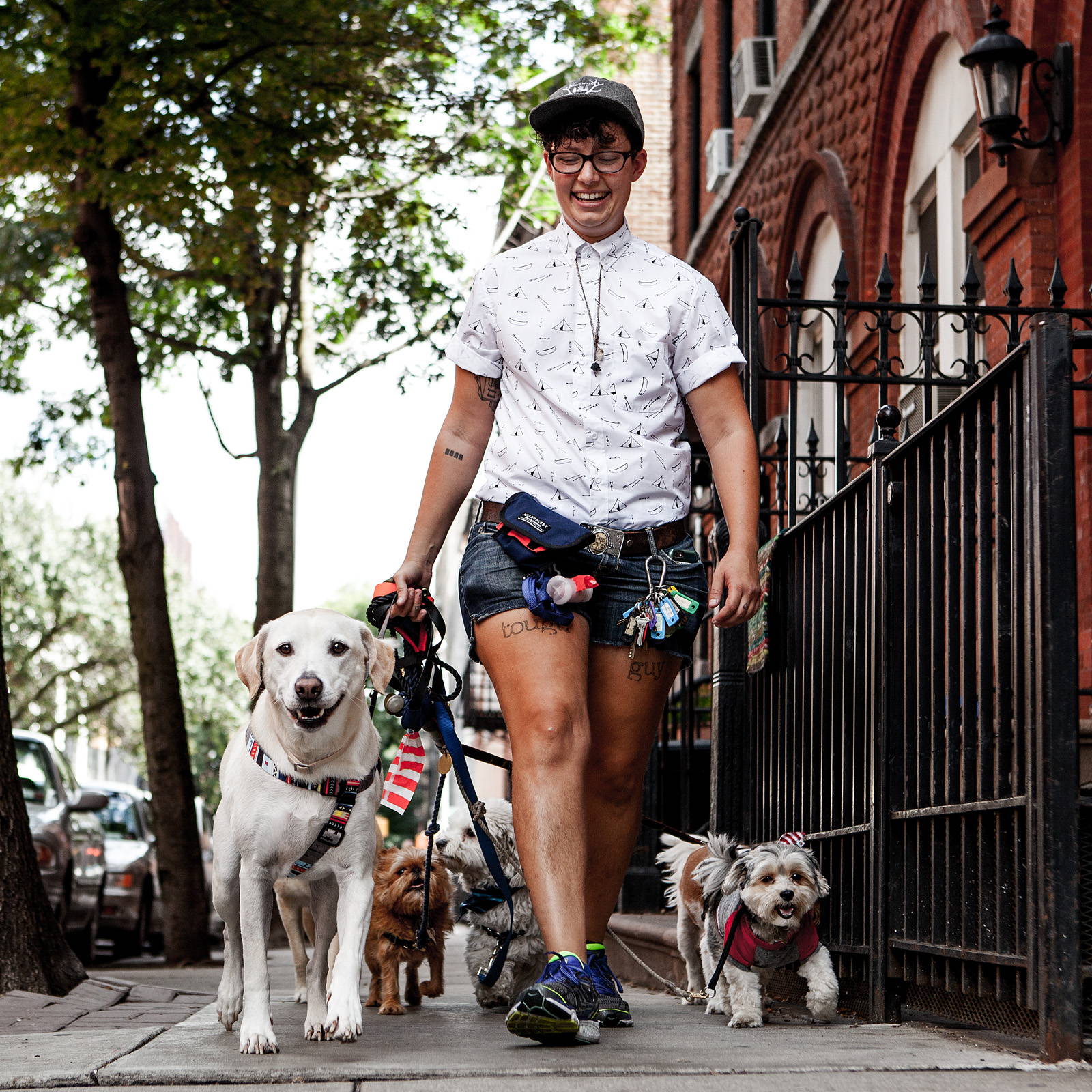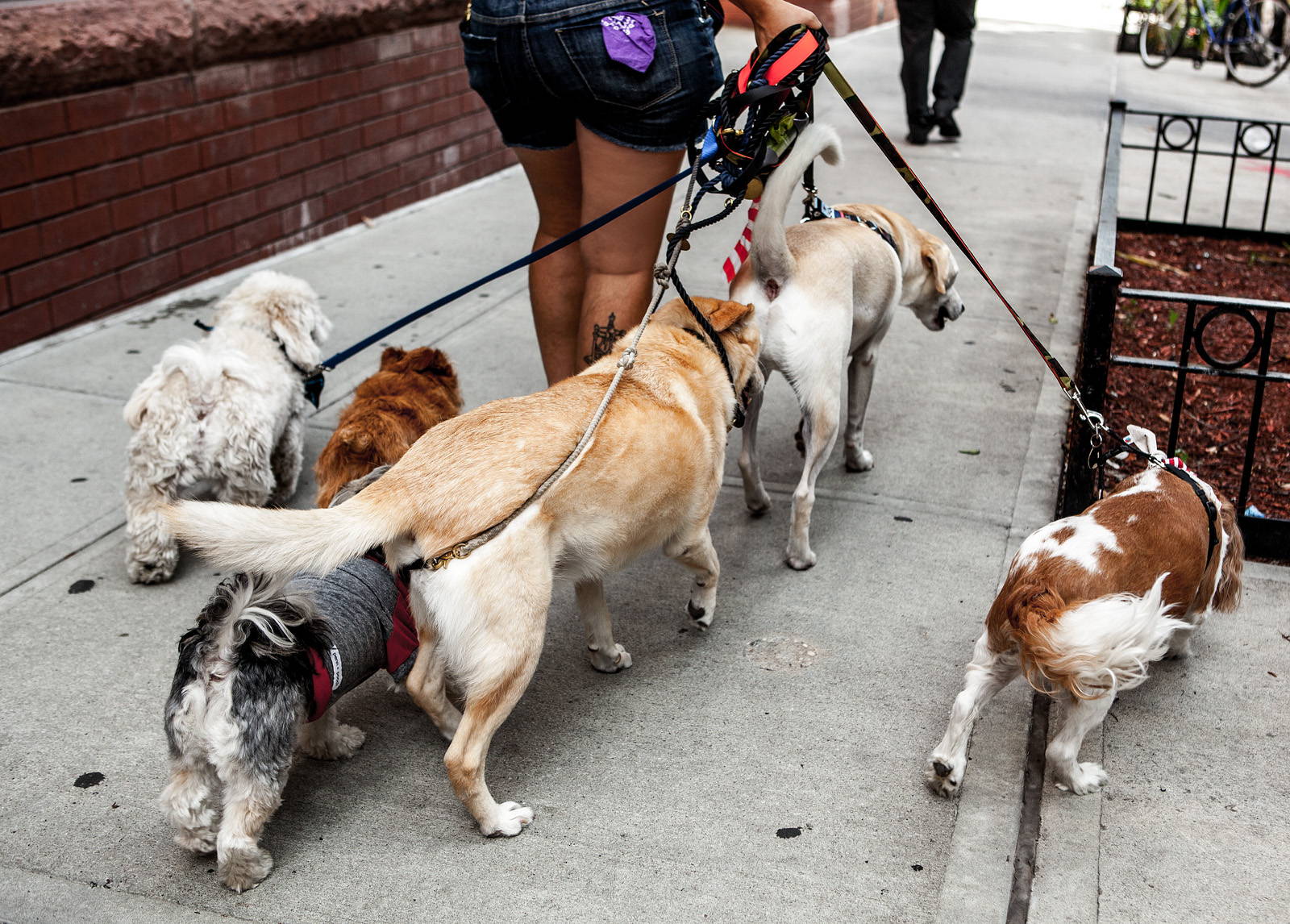 "I never dreamed I would be a professional dog walker and pet care person. I didn't even know the industry existed, until I moved to Brooklyn in 2010. Almost immediately upon graduating from an elite single-sex college, I co-founded a nonprofit collective named Translate Gender and spent the better part of my 20s working in the social justice movement as a community organizer, meeting with college/university deans and administrators, talking specifically about lack of inclusion of trans*women in women's colleges. Ultimately, I burned out - and tired of organizing people, applied to several dog walking jobs. Now, almost a decade after leaving academia, I'm spending five hours in pouring rain with tender dogs, helping them build confidence in the heart of Brooklyn, returning home covered in drool and treat residue and dog hair - and I couldn't be happier."
---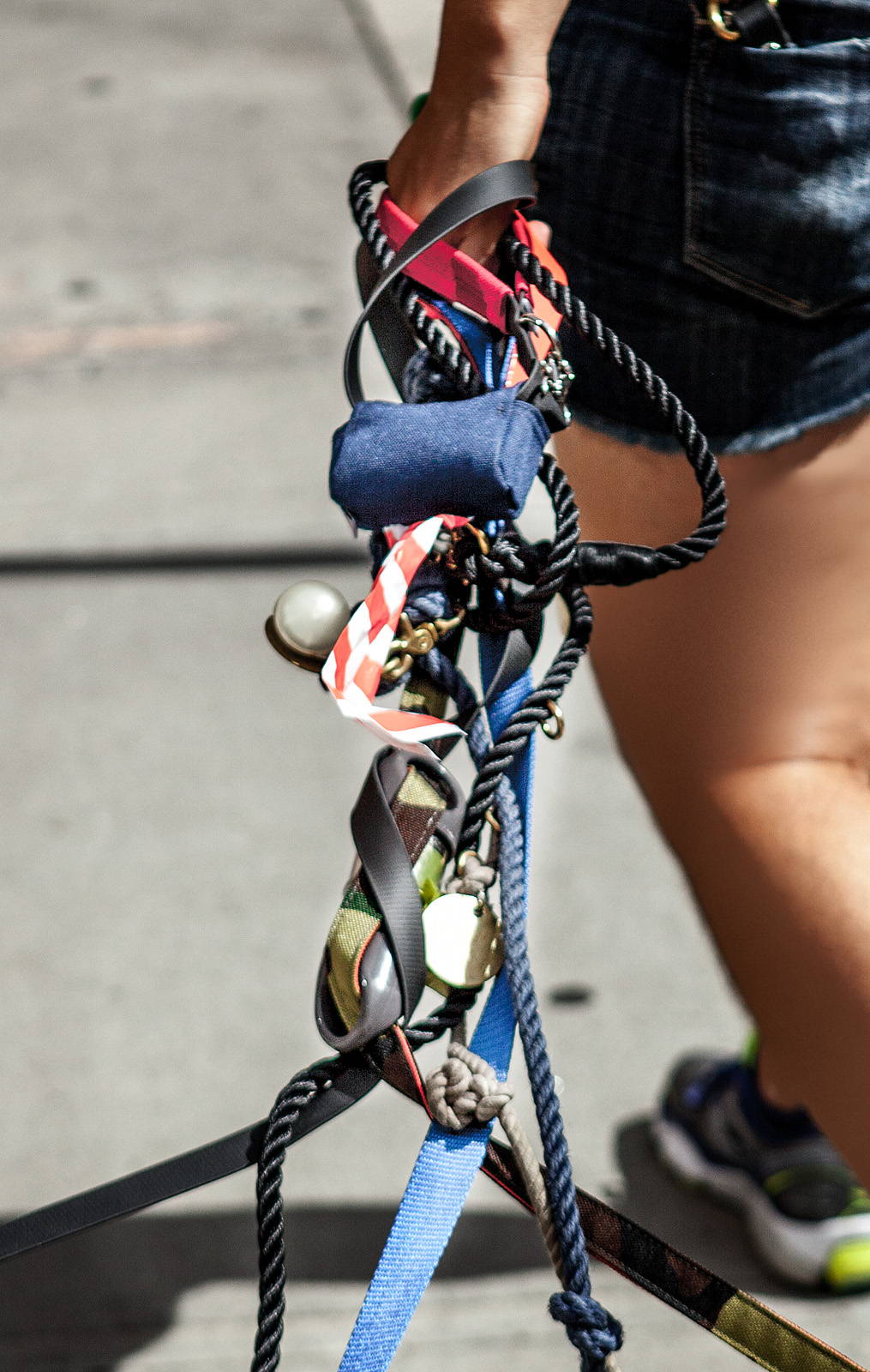 "I love a Found My Animal leash, mainly because they're adjustable/multi-use and aesthetically pleasing, but also because the founder literally stays up late at night testing the safety of her equipment, making sure clips won't come undone during weird maneuvers a scared dog may try. I trust Found My Animal equipment and often gift clients their leashes and collars."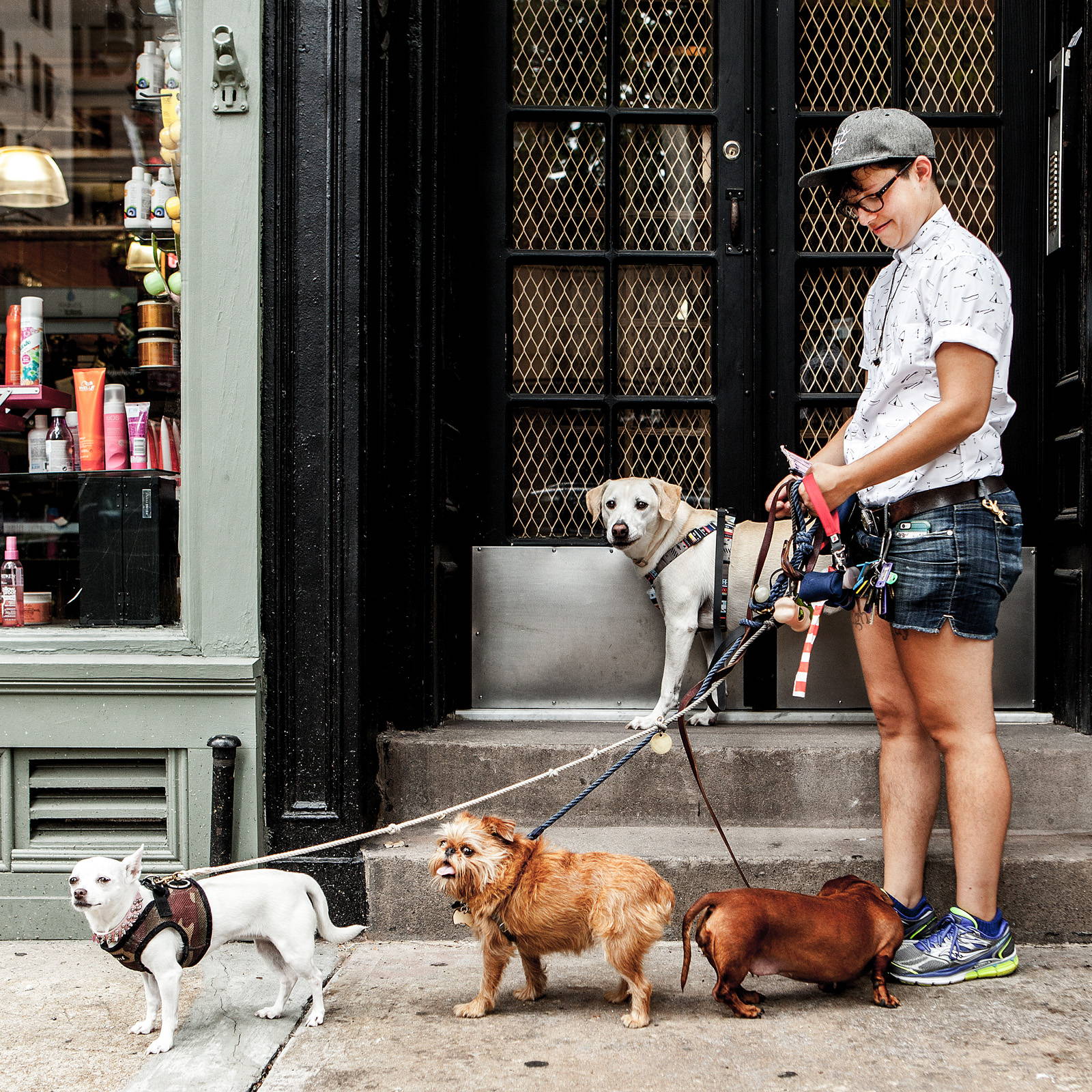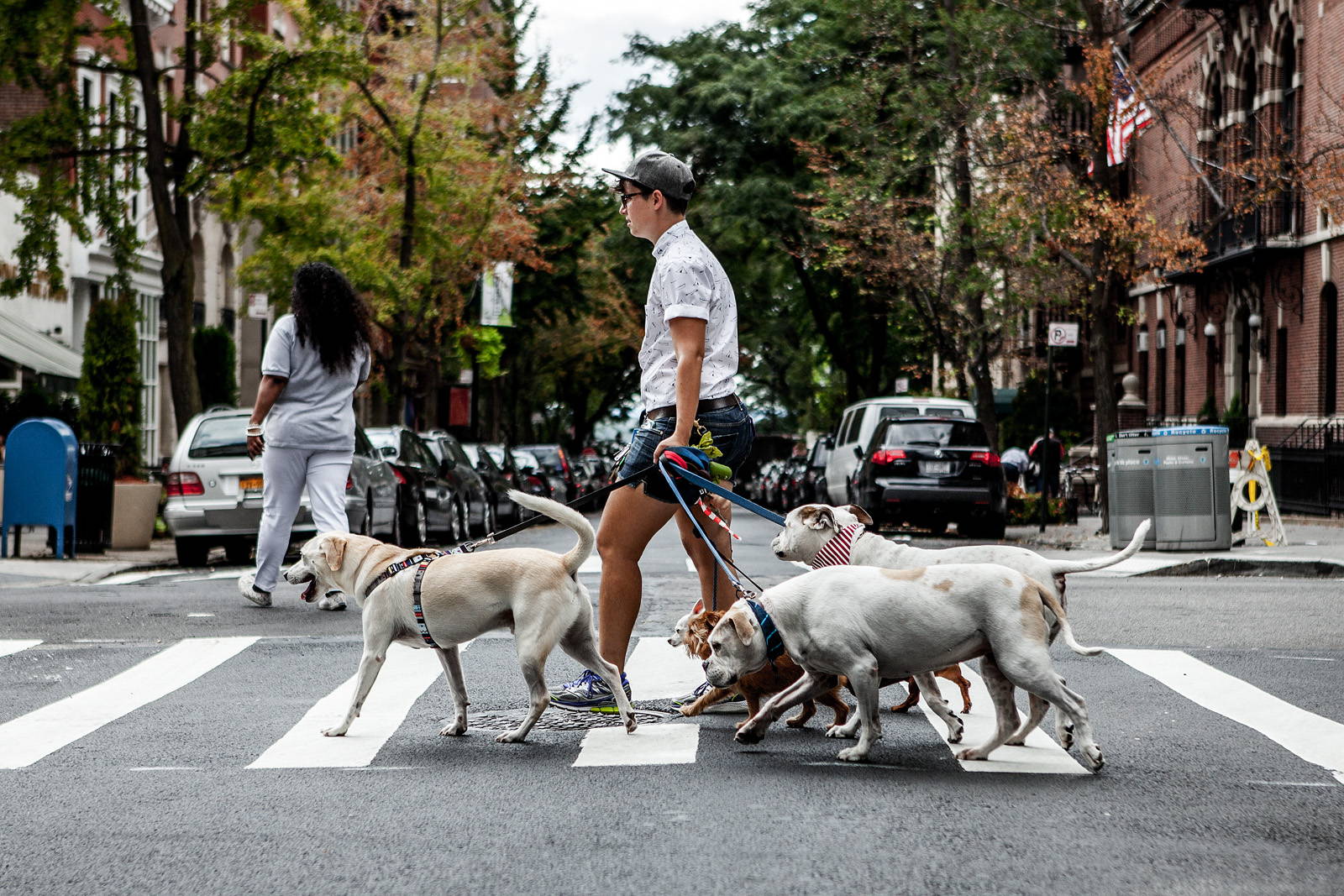 "Generally, I wake up around 7:30am and aim to be out of my apartment between 9:30-10:00am to meet my first dog, a chiweenie rescue named Pixel. I love my morning monogamy walks with Minipix. We stroll to Cadman Plaza Park, sometimes via the Greenmarket near Borough Hall, and in the autumn I can grab an apple breakfast snack. Then my day becomes much less luxurious. I walk about 10 minutes to Cobble Hill, where I pick up the beginnings of my first pack: a young Havanese who is super playful and cute as hell, a senior Cavalier King Charles Spaniel who is so obsessed with food he once ate a corn cob and needed surgical intervention (this was before my time with him), and a senior lab-beagle mix who is the most docile babe in the history of time. We all walk and pick up a puppy mill rescue who will jump almost as high as my waist to get a treat. Sometimes, this pack is combined with my Boerum Hill pack: a young puppyish labmix rescue who is still learning how to be in the world; a teenage labmix rescue who wants to pee on literally everything and self-identifies as a paternal figure to all small dogs; a Brussels Griffon who used to get so scared being out in the city she slipped her collar and ran home one day with a different walker (she's a confident ladyboss who happily snorts along with her pack); a Jack Russell Terrier mix rescue dog who loves everyone and everything and is the calmest terrier I've ever met; and my beloved pointer-retriever mix who is about 12/13 years old now and l-o-v-e-s being in a pack."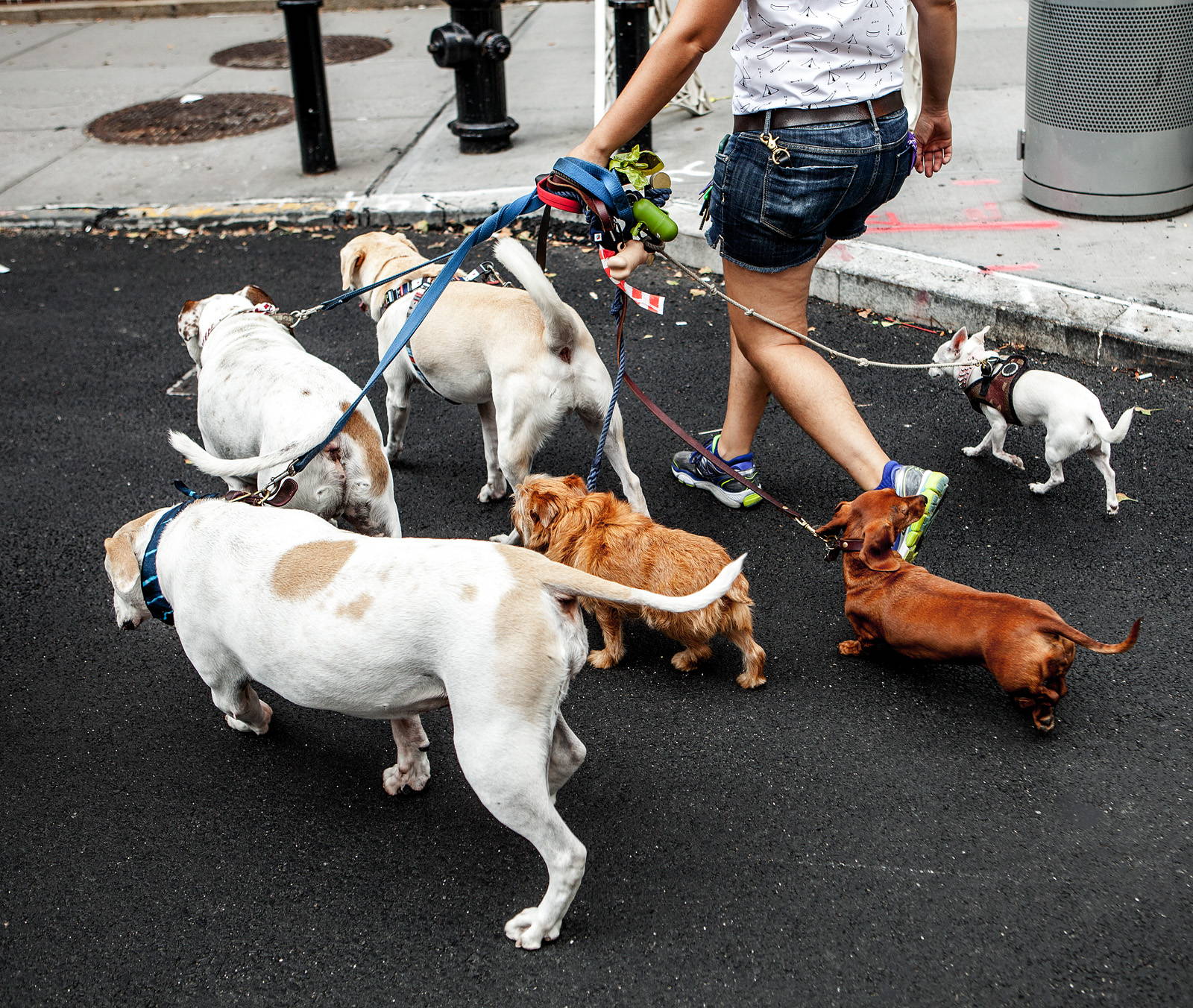 "In the afternoon, I head back to Brooklyn Heights to revisit the chiweenie, who I take along with a dachshund rescue (who will only pee in like one location) to pick up two English Bulldogs - this is maybe my most awkward pack, two bulldogs and a doxie and a chihuahua mix! They're fascinating to watch interact with one another and with their world. From here I head to Carroll Gardens to take a senior mastiff mix rescue dog on a solo walk - sometimes it takes us 15 minutes just going up and down his stairs, he's the most gentle giant with probably the beginnings of arthritis in his joints. If this babe isn't my last dog, then I head to another solo walk with a sixteen-year-old toy poodle, or perhaps to a solo walk with a completely neurotic cutie shepherd mix who always stops and insists on sniffing/licking her butt before continuing our walk, or to my two rabblerouser standard schnauzer crushes (one of whom is 50lbs of pure muscle), or to my beloved spinone friend who wants to stand for 10 straight unblinking minutes staring at a squirrel, waiting for me to shoot it (I never shoot them). I'm home generally by 8:00pm and try to do some admin if I have energy, but usually I just collapse into bed (after a shower) and watch bad cable TV or read a book or peruse a magazine. Then it's lights out and back to it the next day."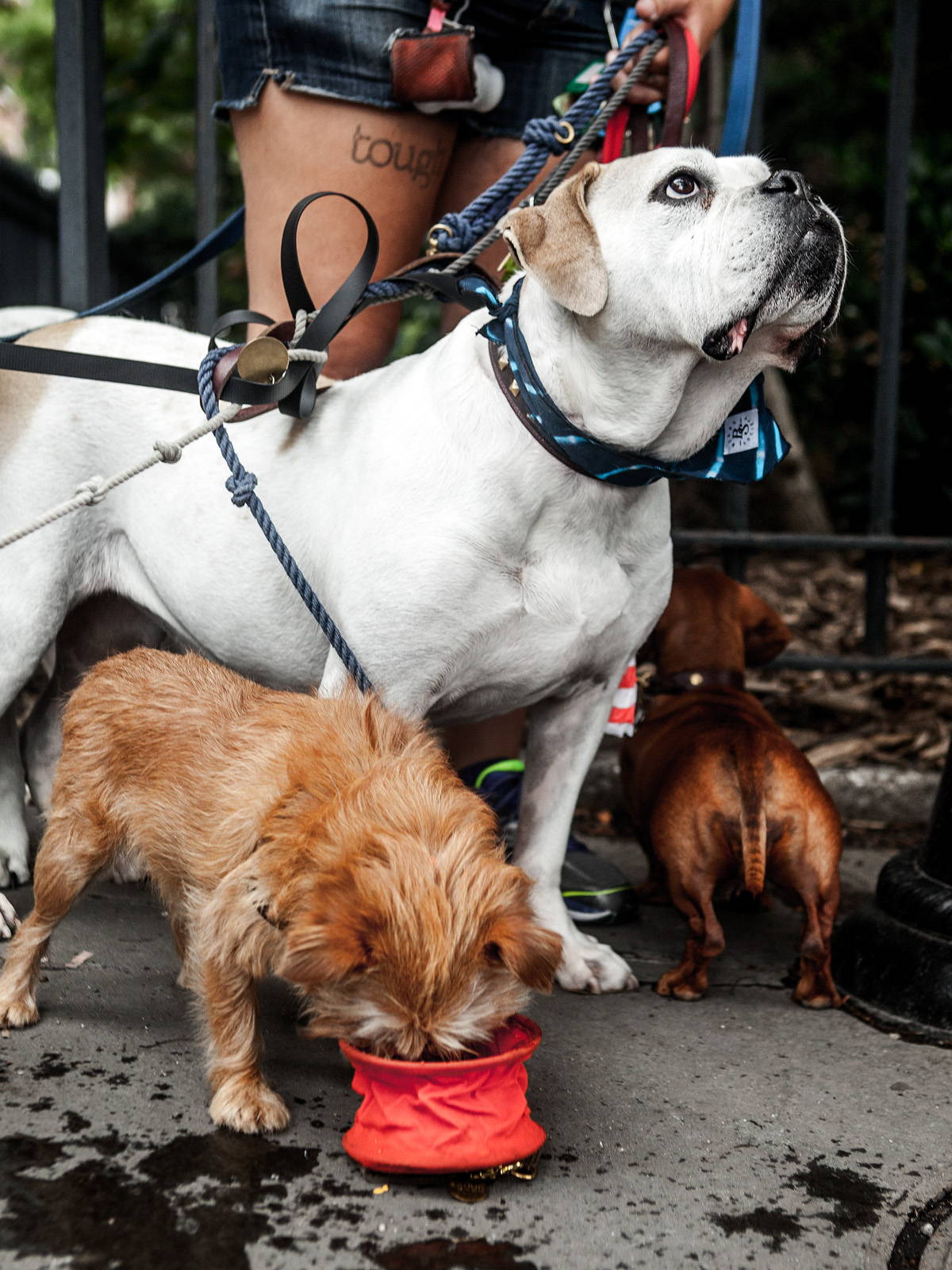 ---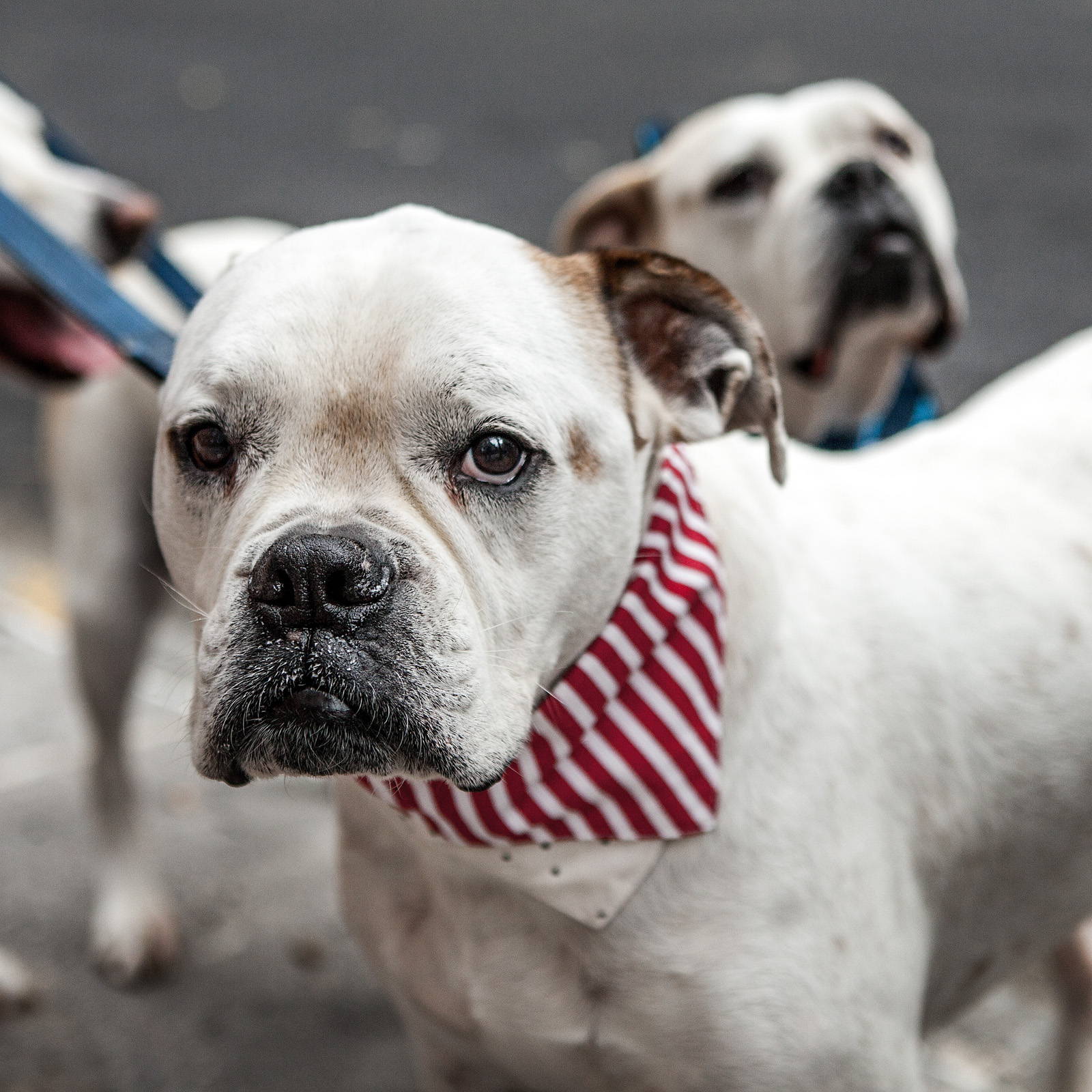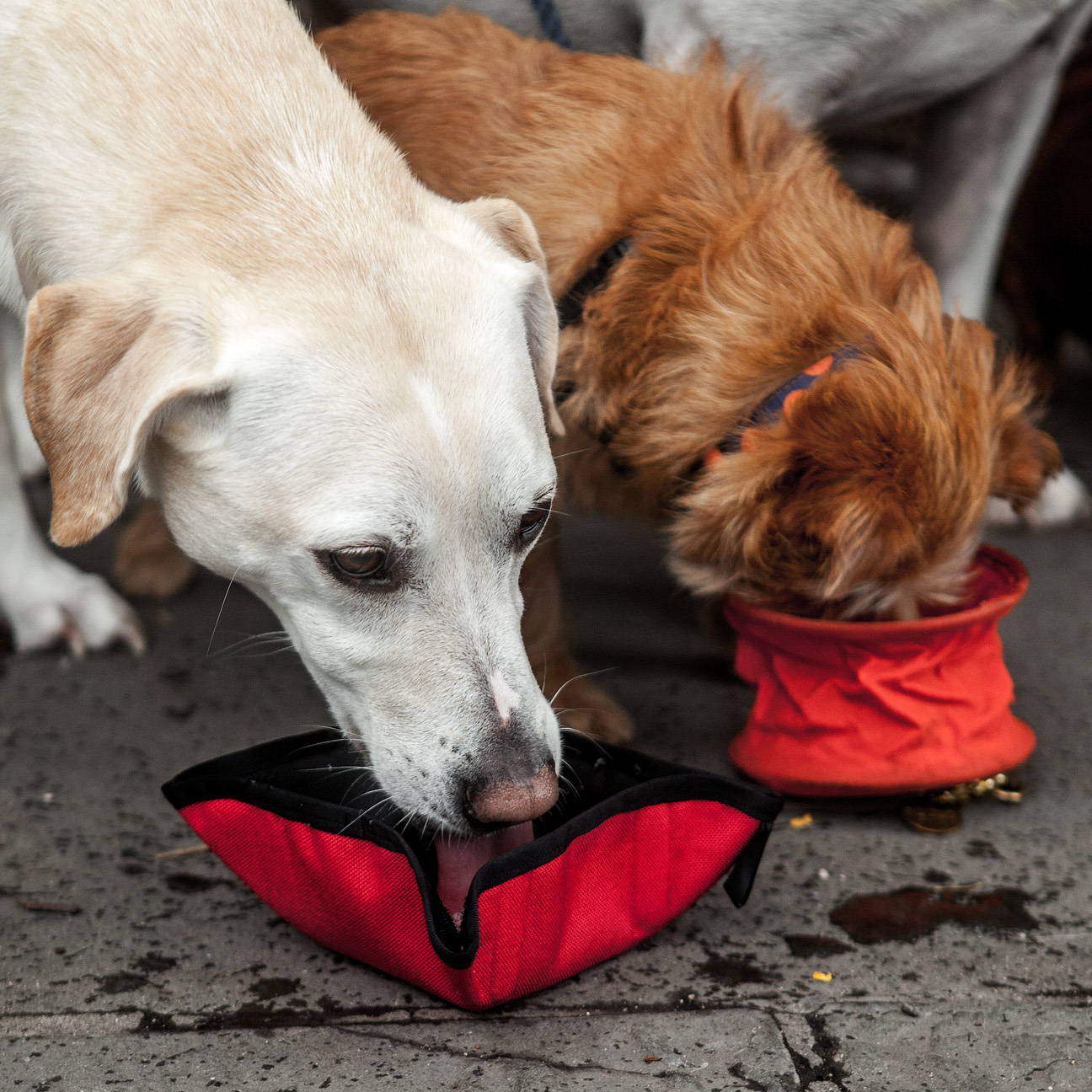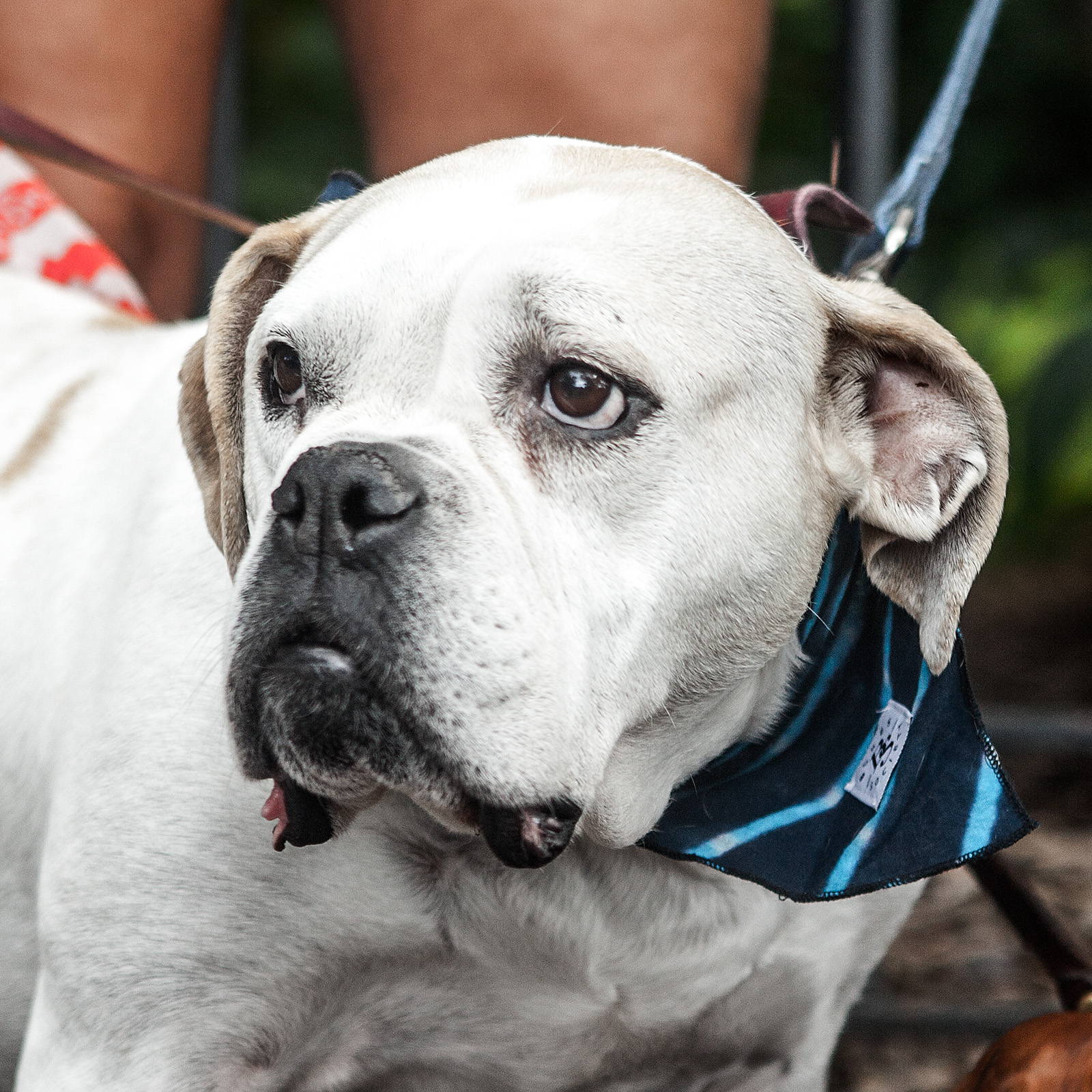 ---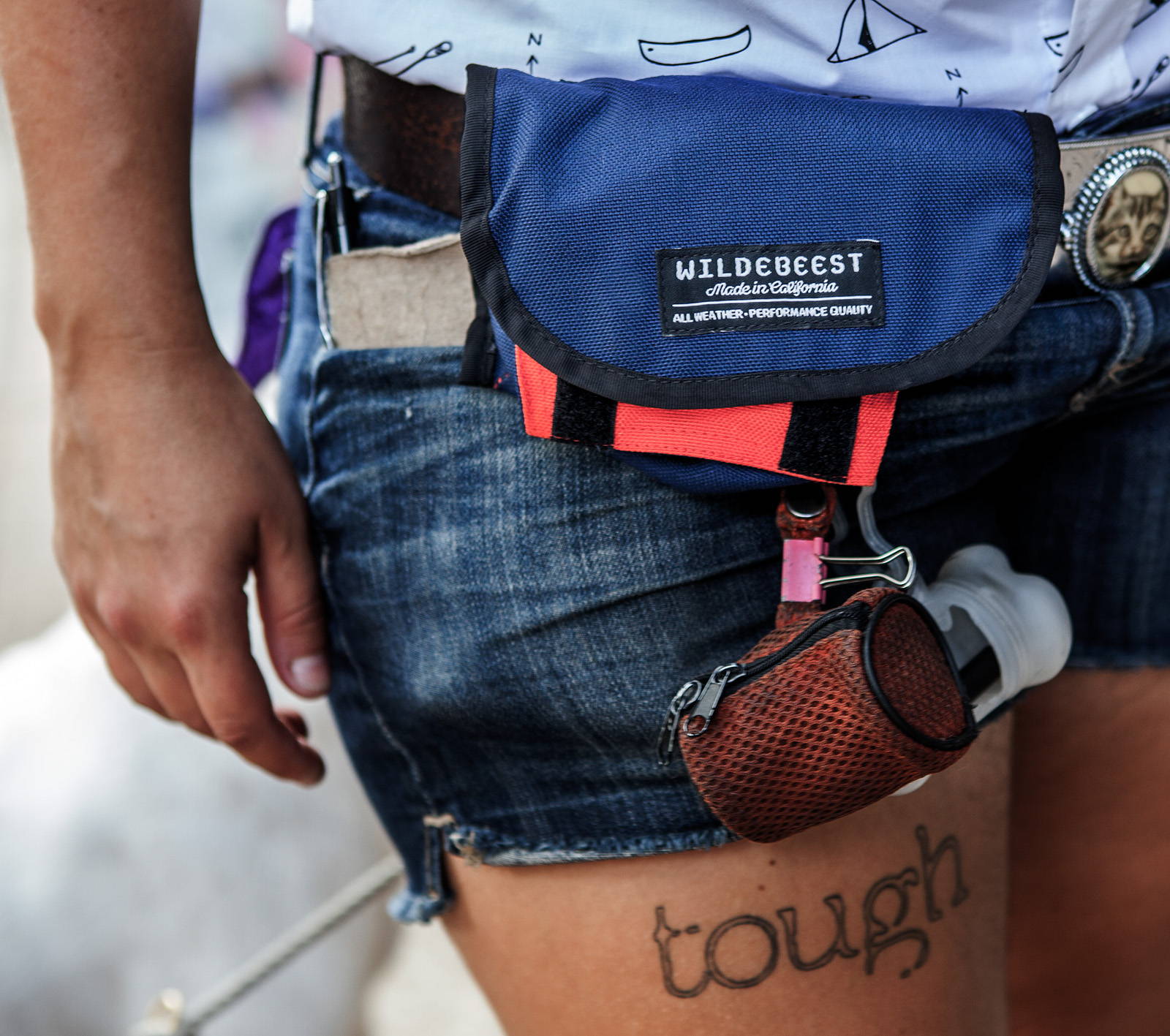 "All of my dogs are stunning and magical creatures. Some certainly cause more drama than others, some are way weirder than others, some are completely in their own realities, some have bizarre quirks sometimes I feel like only I bare witness to. I'm often talking to them, asking them questions like, "Does it really make sense for you to try to exit the apartment by wrapping me up and going between my legs?" or, "Do you really want to eat that lump of charcoal?" or, "Why did you make the awkward decision to try to walk under a dog who is taller than you are?"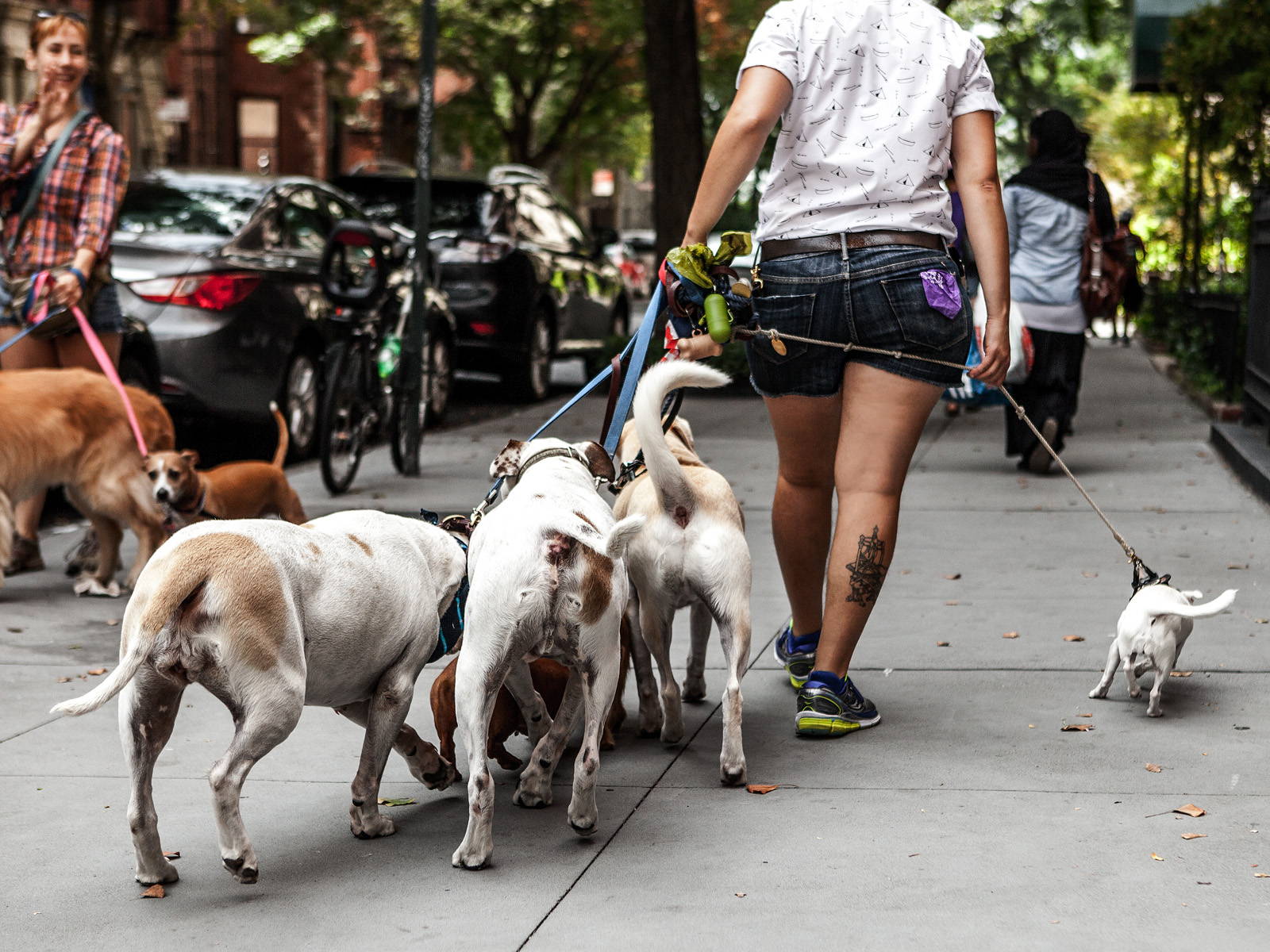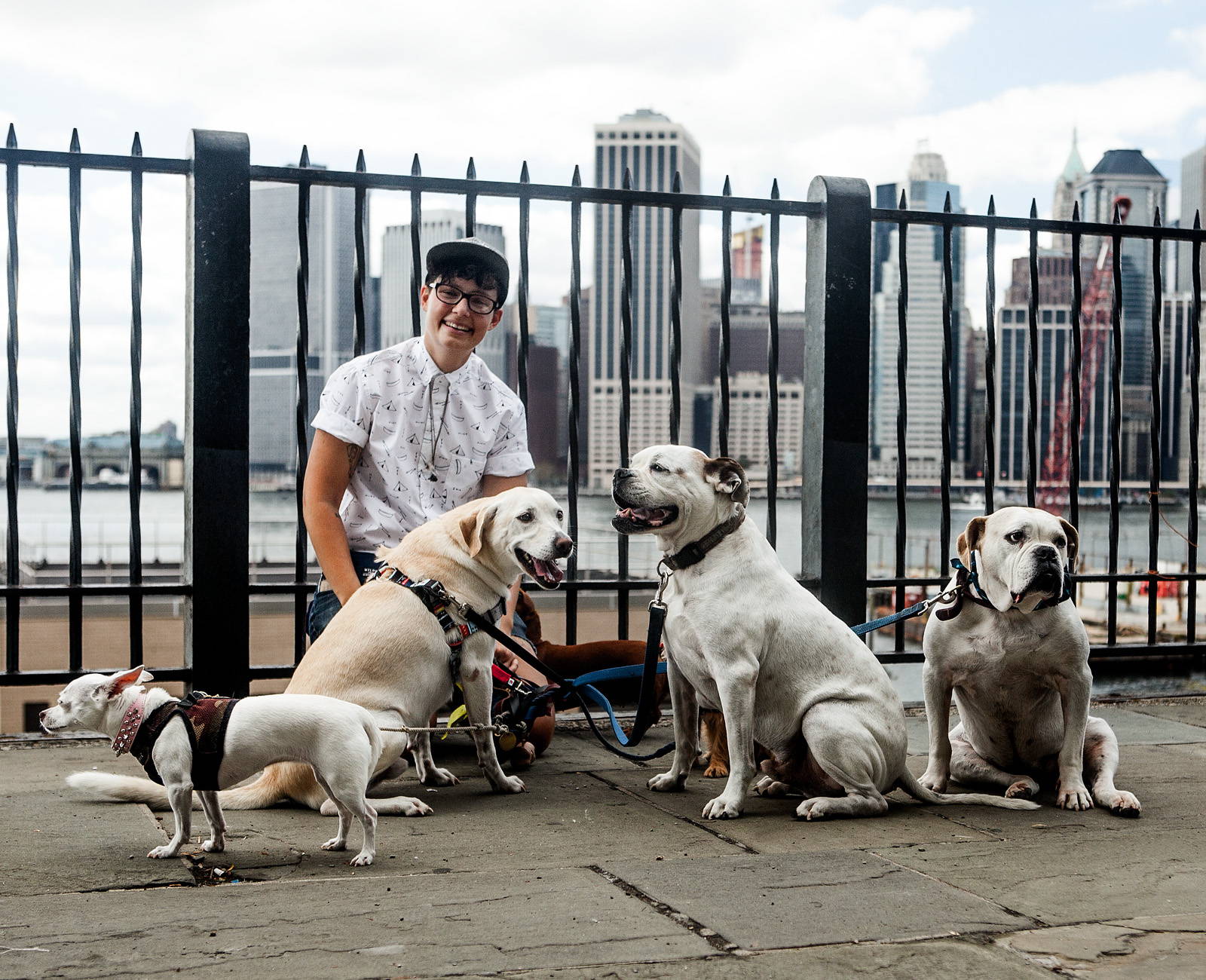 ---